【 PEOPLE PLZ TALK 】
「Art is an essential part of my life. I love to create but I also love to see, hear, and perceive the artistic creations of others. It's probably some kind of addiction, I've never been able to live without it.」
— RX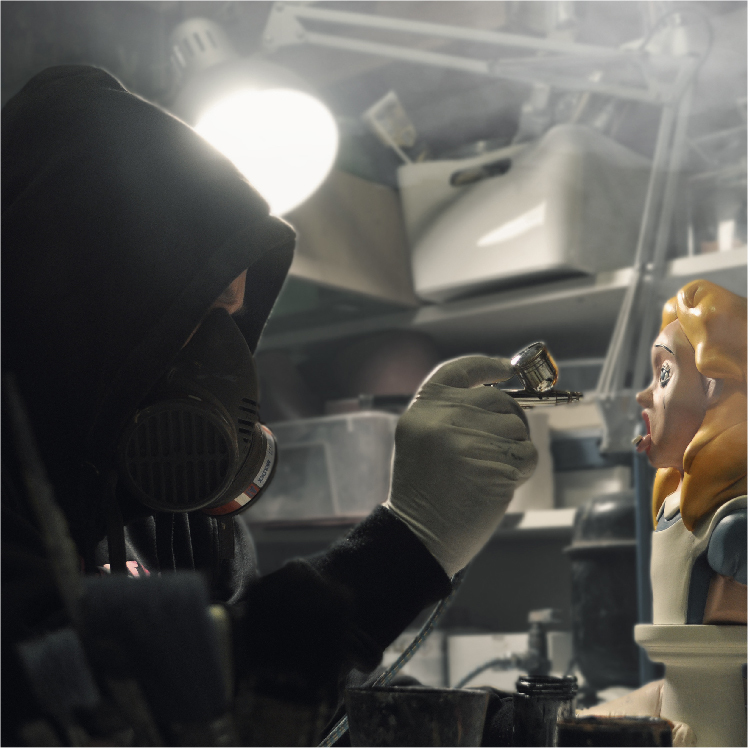 The Italian artist RX has an endless passion for art; he not only is an artist, but also a designer, and a craftsman. From the early picture book publications to the recent paintings, prints, and figures, RX started a unique career of creation on the social media platform.
As a self-taught artist, RX has been discovering and experimenting styles and themes. At 2018, he has set his themes on the darkness and the bestial side of humanity, using popular characters as a medium, to let people reflect, and relate.
All of his sculptures and figures are 100% handmade, making them especially valuable. This time, in collaboration with p/zzzz, he will be releasing the globally limited 6 editions of Mum Anatomy, which belongs in the Pop-Paradox series that is known for reinterpreting classic pop culture icons to deliver RX's thoughts behind the creation.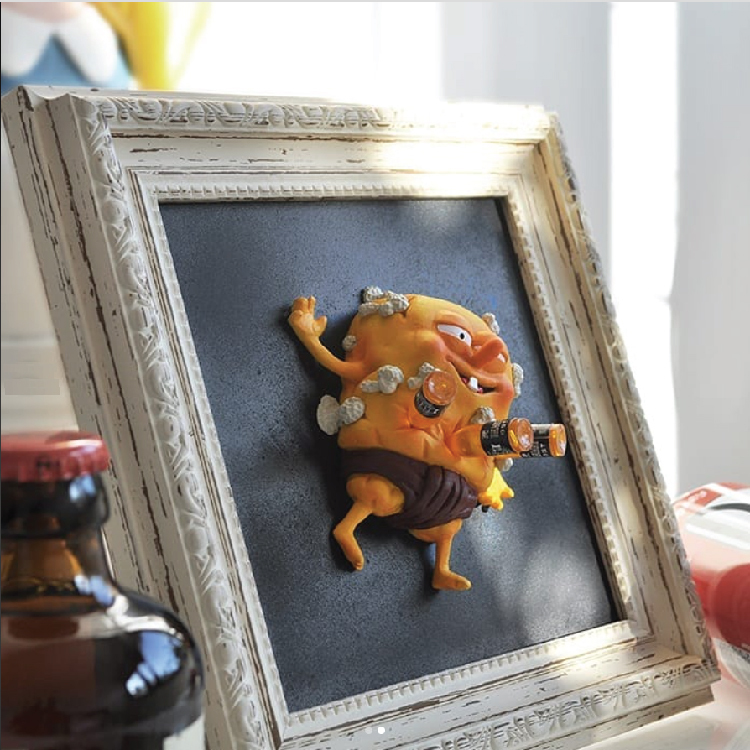 when SpongeBob starts absorbing the darkness of humanity
Image Source:RX Official Instagram @rxstrip
p/zzzz:What messages or ideas do you want to convey through your art? How do you choose the theme of your artwork?
RX:With my art I want to give a point of reflection. I believe that in this society where everything runs very quickly, where everything is social, stopping for a moment and thinking is very important.
The themes of my works are about everyday's life, choices, human frailties, moods. Sometimes I love to reinterpret and rework some pop icons to make the message stronger.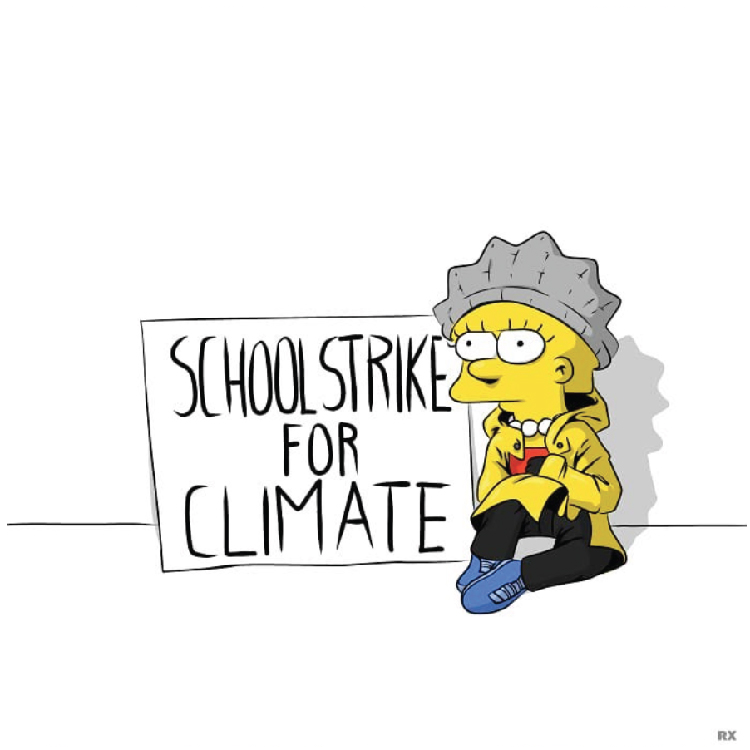 Always reflecting on real-time news, did you recognize the girl in the image?
Image Source:RX Official Instagram @rxstrip
p/zzzz:Growing up, what incidents or experiences have impressed you the most? Have these special moments influenced your art creation?
RX:Time has certainly helped me to hone my " technical " skills ( my artworks are all handmade ) and has shown me that the best way to learn is to make mistakes. Time also helped me to mature my thinking and to be less impulsive.
During my lifetime, I had wonderful experiences but also some dark moments. Probably, these dark moments gave me and still give me the strength to continue this incredible " story " through my artworks.
I was born in a country where lived and are present the works of the greatest painters and sculptors in the world such as Michelangelo, Canova, Da Vinci. I've been always fascinated by Art forms, but above all the perfection that man can achieve.
My childhood was monopolized by the incredible world of Disney. Cartoons and comics have taught me to draw, to tell and it still occupies a large part of my heart.
Matt Groening's the Simpsons taught me that cartoons aren't just for kids and that you can use this graphic language to deal with adult themes as well.
The works of Edward Munch and of the expressionists in general made me understand that in a painting it is also possible to represent a strong emotion.
Todd McFarlane, the creator of Spawn and founder of " McFarlaner Toys " made me literally fall in love with action figures and made me realize that any subject could become a toy.
Over the last decade I have been fascinated and certainly influenced by the " urban " works of Banksy, Ron English and the incredible anatomies of Jason Freeny.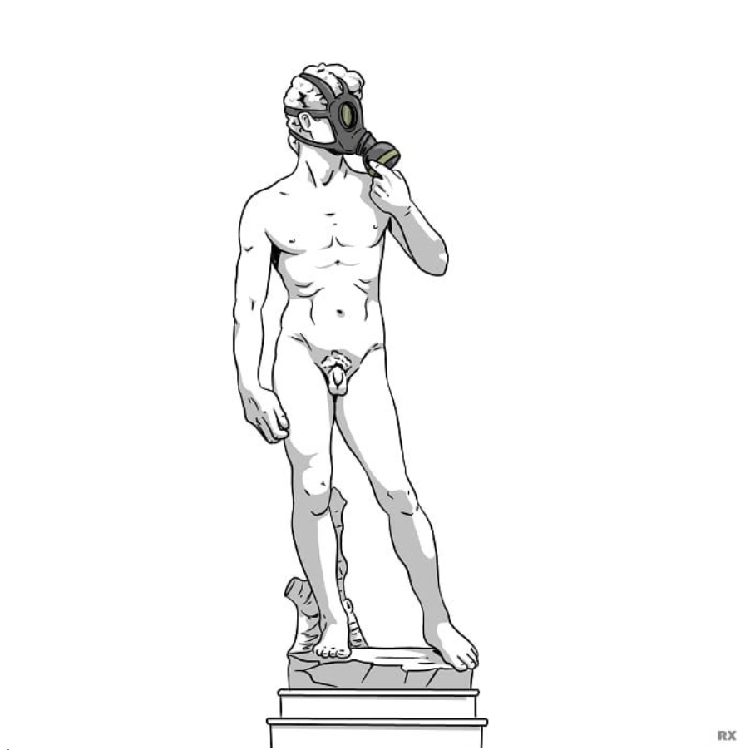 Even the "perfect" David need a mask during the pandemic
Image Source:RX Official Instagram @rxstrip
p/zzzz:What kind of first impression would you like to give to the viewers seeing you art for the first time?
RX:Although at first sight many of my works are visually a little but "dark", what I would like to give immediately after is a smile; in the end, I would like to instill a little moment of reflection. I would like to make the viewer say "It's true, it happened to me too" or "so everyone can be wrong" or "This work represents me".
p/zzzz : with the outbreak of COVID-19, we are entering a whole new age. From your perspective, what role will the artworks play in the future? How do the artists cope during this pandemic?
RX:I thought a lot about the post-covid19 era. I believe that this pandemic will help, willing or not, to put the real life priorities in order in people's heads (at least for a short time). The artist has always had a communicative role towards emotions and in the future he will have to be able to amplify his message which will have to reach an increasingly polarized public between real and social life.
Personally, through the many phases of "lockdown", I was able to slow down the daily routine and focus more on my works from the point of view of the idea and creation of the artifact itself.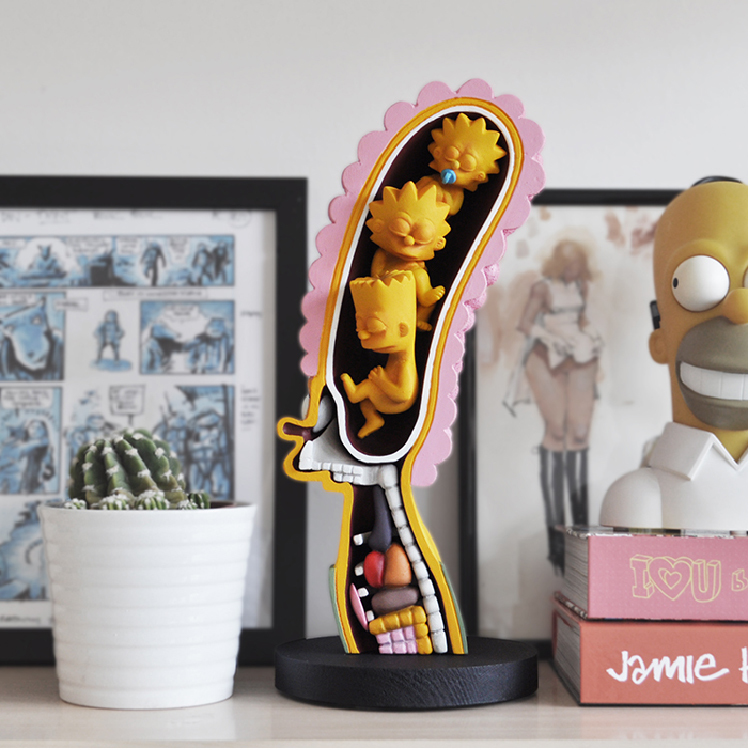 Written by: Tiffany Ku